D-Link DGS-1016D 16-Port Gigabit Unmanaged Switch (used)
D-Link DGS-1016D 16-Port Gigabit Unmanaged Switch (used)
D-Link DGS-1016D 16-Port Gigabit Unmanaged Switch in immaculate condition with packaging, rack mount, screw and manual. Like New!!!!!     ...
Sold By:

Dlink

Product Sku:

Categories

Networking Devices, SOHO Networking

Type:

Networking Equipment
D-Link DGS-1016D 16-Port Gigabit Unmanaged Switch in immaculate condition with packaging, rack mount, screw and manual. Like New!!!!!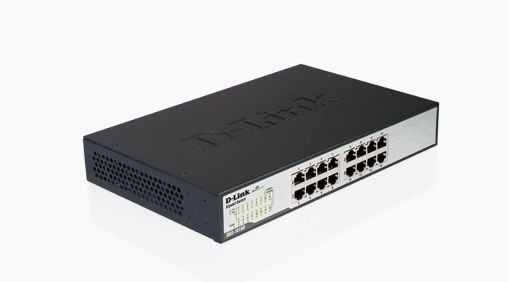 The DGS-1016D provides three key benefits through its cutting edge, innovative D-Link Green eco-friendly technology:
Reduces power consumption & creates less heat
Extended product life
Reduces operating costs
Power Savings by Number of Connected Ports and Link Status
Computers do not require Internet access all the time; neither do switches utilize all ports at all times. When a computer or network equipment is shut down, switches often remain on and continue to consume considerable amounts of power. With D-Link Green Technology, D-Link switches can automatically detect link status and reduce power usage of ports that are idle. Computers or any connecting parties set to standby mode (not power off), however, will not provide significant power savings.

Power Savings by Cable Length
D-Link Green verified switches have the ability to analyze the length of any Ethernet cable connected to them for adjustment of power usage accordingly. Shorter lengths require less power.

Overall Power Savings Per Day
For a traditional switch, power consumption remains constant even when the ports are not in use. In a standard workday scenario where PCs are used for 10 hours a day and powered off 14 hours a day, and connected to the switch using 20 meter cables, D-Link Green Technology can save up to 20%* power used for each system.

Note: Switch uses switching power adapter. The cable length which PCs are connected to switch is 20m cables.

Get the blazing speed of Gigabit Ethernet with the D-Link GigaExpress DGS-1016D, an 16-port 10/100/1000Mbps Gigabit Switch that delivers power, performance, and reliability in one cost-effective, space-saving design. Increase the speed of your network server and backbone connections, or make Gigabit to the desktop a reality.

Power users in the office, workgroup, or creative production environment can now move large, bandwidth-intensive files faster. Transfer graphics, CGI, CAD, or multimedia files across the network instantly. The versatile and compact 1RU height design of the DGS-1016D enables the device to be rackmounted in a standard 19 inch rack, while conserving valuable rack space.

Power-Packed
It features a non-blocking switching architecture that filters and forwards packets at full wire-speed for maximum throughput. An 8K MAC address table provides scalability for even the largest networks. Address learning and aging, 802.3x Flow Control for full-duplex mode, and back pressure flow control for half-duplex mode alleviates traffic congestion and ensures reliable data transmission.

Designed using industry standards, it is compatible with virtually all 10, 100, and 1000Mbps Ethernet devices and other vendor equipment. The D-Link DGS-1016D 10/100/1000 Mbps Gigabit Switch protects your existing network investments while providing you with a straightforward migration path to faster Gigabit speeds.

Easy to use
The auto features of this gigabit switch make installation plug and play and hassle-free. No configuring is required. Auto MDI/MDI-X crossover on all ports eliminate the need for crossover cables or uplink ports. Auto-negotiation on each port senses the link speed of a network device (either 10, 100, or 1000 Mbps) and intelligently adjusts for compatibility and optimal performance.

The switch also features diagnostic LEDs which display status and activity, allowing you to quickly detect and correct problems on the network. Every port also supports a cable diagnostic feature that helps to detect cable related problems.

* Power savings may vary depending on products used.
Maximize power savings when compared to a D-Link conventional switch. Uses up to 40% less energy when connected devices are powered down and up to 20% less energy when connected devices are used 10 hours and powered down 14 hours over a 24-hour period, when connected via 20 meter Ethernet cables.

D-Link Green Technology features available on hardware version C1 or later     

Features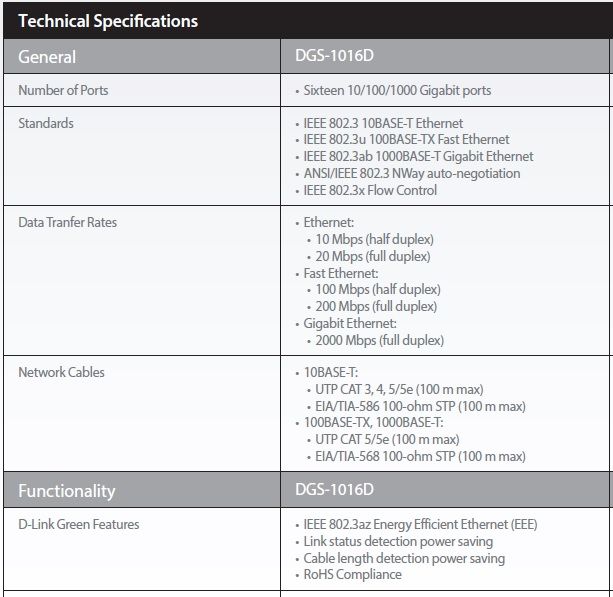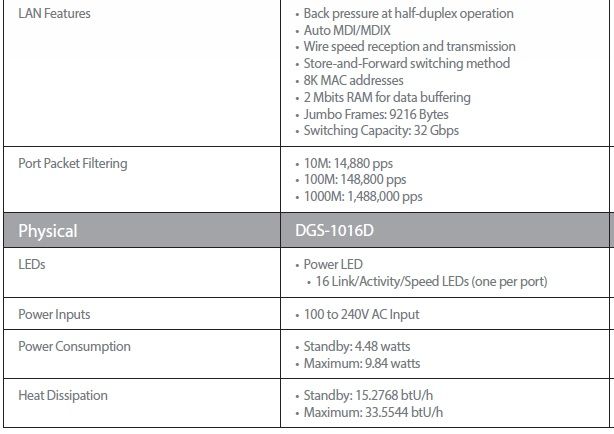 Terms and conditions of use;
By placing an order with us you agree to our sales terms, conditions and policies.

Application of Terms; Customer Acknowledgment
These Terms constitute a binding contract between the Customer and Asetos. The Customer acknowledges agreement and acceptance of these Terms by making a purchase, placing an order or otherwise shopping on our Website. These Terms are subject to change without prior notice.

Purchase price
Prices are listed on our Web site, and are subject to change without notice. All prices INCLUDE VAT unless otherwise stated.

Shipping; Risk of Loss
During working hours, orders are usually processed within 2-3 hours. However, please allow up to 24 hours for your order to be processed. Asetos typically ships out orders within one business day after they have been placed (this excludes weekends & public holidays). We try our best to ship out all orders the same day if they are paid for before 12pm. You will receive a shipping confirmation email (with a tracking number) as soon as your order has been processed and shipped.

We ship countrywide, to your door. We use a COURIER SERVICE. This is overnight (next BUSINESS day service) to major centers (2-3 days extra to REGIONAL centers), but can take a few days to outlying areas. Please note - large items (over 2kg) might take an extra 1-2 days shipping time.

All times stated above exclude weekends & public holidays.

Asetos charges shipping and handling fees for every shipment, unless a special promotion or contract term provides otherwise; such cost includes the freight charged by the carrier, packaging, and handling. Delivery times are estimates only and we shall not be liable for any delays caused by the courier company or post office.

PLEASE NOTE - We can not ship to certain townships, farms, plots or extreme outlying areas.

Payment is due before shipment, unless credit terms have been arranged in advance. No item will be shipped out until Proof of Payment has been emailed to info@asetos.co.za or faxed to 0866 122 789. We allow a maximum of 5 days to complete order payment. Failure to do so will result in the order being cancelled.

Pricing Information; Availability; Errors and omissions Disclaimer
All pricing is subject to change. We reserve the right to make adjustments to pricing, products and service offerings for reasons including, but not limited to, changing market conditions, product discontinuation, product unavailability, manufacturer price changes and errors in advertisements.

All orders are subject to product availability. Therefore, we cannot guarantee that we will be able to fulfil customer's orders.

We make every effort to ensure the accuracy of the information published on our Website. However, the documents and graphics published on this site may contain technical inaccuracies or typographical errors. We make no representations about the suitability of the information and graphics presented on this site. All such documents and graphics are provided "as is" without warranty of any kind.

If an error is made and a product is listed at an incorrect price, we shall maintain the right to refuse or cancel any orders placed at the incorrect price. If the order has been confirmed and you have paid, we shall immediately issue a credit. We also do not guarantee that our prices listed on other websites are accurate or up-to-date.

Limitation of Liability
NEITHER ASETOS NOR ITS AFFILIATES WILL BE LIABLE FOR LOST PROFITS, LOSS OF BUSINESS OR OTHER CONSEQUENTIAL, SPECIAL, INDIRECT OR PUNITIVE DAMAGES, EVEN IF ADVISED OF THE POSSIBILITY OF SUCH DAMAGES, OR FOR ANY CLAIM BY ANY THIRD PARTY. NEITHER ASETOS NOR ITS AFFILIATES WILL BE LIABLE FOR PRODUCTS NOT BEING AVAILABLE FOR USE OR FOR LOST OR CORRUPTED DATA OR SOFTWARE OR THE PROVISION OF SERVICES BY THIRD PARTIES. THE CUSTOMER AGREES THAT FOR ANY LIABILITY RELATED TO THE PURCHASE OF PRODUCTS OR SERVICES PROVIDED DIRECTLY BY ASETOS OR ITS AFFILIATES, NEITHER ASETOS NOR ITS AFFILIATES WILL BE LIABLE OR RESPONSIBLE FOR ANY AMOUNT OF DAMAGES ABOVE THE RAND AMOUNT PAID BY CUSTOMER FOR THE PRODUCT(S) OR SERVICE(S) GIVING RISE TO THE CLAIM.
We will not be responsible for any delays in delivery which result from any circumstances beyond our control, including without limitation, product unavailability, carrier delays, delays due to fire, severe weather conditions, failure of power, labour problems, acts of war, terrorism, general insurrection, acts of God or acts of any government or agency.

We will not be held responsible for any typographical errors including instructions, descriptions, prices or terms.

We will not be held responsible for missing, damaged, or late package delivery by the shipper.

Orders; Payment Terms

Payment is due before shipment, unless credit terms have been arranged in advance. No item will be shipped out until Proof of Payment has been emailed to nfo@asetos.co.za or faxed to 0866 122 789. We allow a maximum of 5 days to complete order payment. Failure to do so will result in the order being cancelled.


Return of merchandise (RMA) and Warranty
All new items are covered by a 6 month warranty which will be honoured directly by Asetos. All products will either be replaced/repaired/refunded depending on stock availability. There is no warranty on used items unless stated otherwise.

Please email us should you need to return an item.

We do not reimburse your fee to ship to us, but we will pay for return shipping if the item is subject to replacement.

Refunds are subject to inspection of item(s) and all returns are subject to a 20% restocking fee if item is no longer in BRAND NEW condition

Please re-package safely and include all original product packaging.

Asetos reserves the right to refuse a refund if the item is damaged from misuse, items are missing, or if the product is altered in any way.

Asetos or its affiliates are not responsible for damage or loss of any kind that may occur as a result of using or misusing any product purchased from us.

Privacy and Security
Asetos respects your personal privacy!

Any information about you, your email address, your purchases, etc. is kept confidential and NOT given or sold to ANY third party for ANY reason (unless required by a government office or by a court order).
Whatsapp