15.6" 40 pin LED Laptop Screen with Bottom Left Connector (Resolution = 1366*768 )
15.6" 40 pin LED Laptop Screen with Bottom Left Connector (Resolution = 1366*768 )
LTN156AT05  15.6 inch HD LED LCD Laptop Screen/Display Features Size: 15.6-inch WideScreen (13.6″x7.6″) Resolution: WXGA (1366×768) HD Backlight type: LED Video signal connector:...
Sold By:

Asetos Computers

Product Sku:

Categories

Laptop Replacement Parts, Laptop Replacement Screen, Top Sellers

Type:

Laptop Screen
LTN156AT05  15.6 inch HD LED LCD Laptop Screen/Display
Features
Size: 15.6-inch WideScreen (13.6″x7.6″)
Resolution: WXGA (1366×768) HD
Backlight type: LED
Video signal connector: 40 pin LED
Condition: New Grade A+
Warranty: 6 months
Screen Replacement done in-store while you wait. R200 Labour Charge! Just Book An Appointment. (We Charge R450 for Call Out)
Compatible Part Number
LTN156AT02, LTN156AT05, LTN156AT09, LP156WH2(TL)(A1), LP156WH2(TL)(AA), LP156WH2(TL)(AC), LP156WH2(TL)(B1)LP156WH2(TL)(E1), LP156WH2(TL)(F1), LP156WH2(TL)(Q1), LP156WH2(TL)(R1), N156B6, CLAA156WA11A, CLAA156WA11S, B156XW02(V.0), B156XW02(V.2), BT156GW01, BT156GW02(V.0), HT156WXB-100, S-156-30CWLED1366R
Package Included
1pcs x 15.6 inch HD LED Screen Panel WXGA (1366×768) HD 40Pins
How to buy a right screen ?​
Please check:
laptop model and size.
LCD screen size and resolution.
Data connector Pins (20pin, 30pin,40pin,50pin) and position
LCD physical resolution pixels .
backlight type(LED or 1CCFL, 2 CCFL)
NOTE:
1. This item is a LCD screen , not a laptop.
2. One laptop model may have several screen models in different sizes or resolution.​
We specialize in laptop screens and have large stocks.  We provide an excellent level of customer service and we have many years experience in this industry. We have been dealing with laptop screens for over 10 years.
We purchase our screens from worldwide suppliers to bring you the highest quality panels at the very best prices. We only ship the best quality unlike some of our competitors.
To be sure what you are ordering is the right item, you can ask as many questions as you like. or just send the Laptop
Brand Name
and
Model number
.
R200 Charge on fitting of replacement screen if you can ship the laptop at your own cost. Otherwise, we recommend removal of your old screen prior to ordering and sending us the Part Number. The part number will be on the back of the screen. Please see image to see how part number is identified.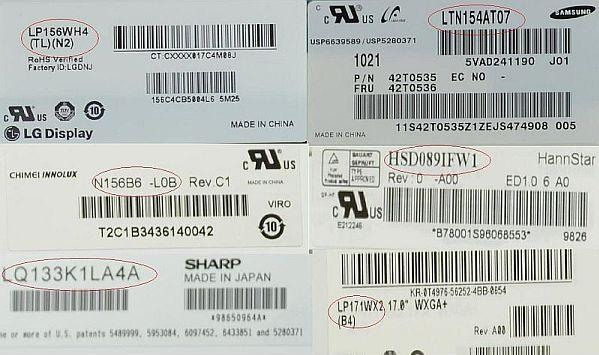 Warranty Policy:
Replacement warranty for DOA (Dead On Arrive) and all manufacturer defective such as line (vertical and horizontal line), fuzzy, & distorted image.
Shipping:
We ship items on the next business day after payment has been received to any corner of South Africa. Shipping rates depend on your location and courier service used. The item will be sent to you in a purposely designed packaging to ensure that it arrives in perfect condition. You can also pickup your item from our premises.
Examples of Suitable Laptop Models
ACER ASPIRE
5250, 5336, 5349, 5536, 5551, 5730, 5730Z, 5733, 5738, 5738PG, 5738Z, 5738ZG, 5739, 5739G, 5742, 5742-314G, 5742G, 5750, 5760, 5810, 5810T, 5810TZ, 5950, 5950G, AS5349, AS5733, AS5750, E1, E1-531, E1-531-2546, E1-571, M3

ACER TIMELINE
5810

ACER EMACHINES
E625, EME730, EME730-332, EME730-433

ACER TRAVELMATE
5742, 5744, 5744-6870, 5744Z, 5760, 5760ZRJ, 6594, 6594E, 8573, 8573T, TM5742

ASUS
K50, K50AB, K50C, K50ij, X551C, X551M, X55A

COMPAQ PRESARIO
CQ56, CQ56-150, CQ57, CQ57-447, CQ57-447SI, CQ58, CQ60-419, CQ60-433, CQ61-100, CQ61-101, CQ61-103, CQ61-104, CQ61-105, CQ61-106, CQ61-107, CQ61-108, CQ61-109, CQ61-110, CQ61-111, CQ61-112, CQ61-113, CQ61-114, CQ61-115, CQ61-116, CQ61-117, CQ61-118, CQ61-119, CQ61-120, CQ61-121, CQ61-122, CQ61-123, CQ61-124, CQ61-125, CQ61-126, CQ61-128, CQ61-129, CQ61-130, CQ61-131, CQ61-132, CQ61-133, CQ61-135, CQ61-136, CQ61-140, CQ61-200, CQ61-220, CQ61-225, CQ61-249, CQ61-250, CQ61-260, CQ61-280, CQ64

DELL INSPIRON
1545, M5450, N5030, N5050, N5110, N7110

DELL LATITUDE
E5220, E5520, E6520, E6530

DELL PRECISION
M4600

DELL STUDIO
1545, 1555 XPS, 1640 XPS, 1640-1492

DELL VOSTRO
1540, 3500, V3550

DELL XPS
15, L502, L502x

FUJITSU LIFEBOOK
A530, AH530, AH531

FUJITSU SIEMENS AMILO
3560, Pi3560

GATEWAY
MS2274, NV52, NV5207, NV5213, NV5214, NV5215, NV5216, NV5423, NV5425, NV5435, NV56, NV5602, NV5606, NV58, NV5807, NV5810, NV5814, NV5815

GIGABYTE
E1500, Q1500, Q1585N

HP
250 G1, 250 G2, 610, 615, 630, 630-B960, 635, 650, G6, G62

HP PAVILION
250 G2, DV5-1159, DV6, DV6-1000, DV6-1140, DV6-1200, DV6-1234NR, DV6-1260, DV6-1300, DV6-1352, DV6-1355, DV6-1359, DV6-1375, DV6-2012AX, DV6-3157, DV6-3164, DV6-6C50EI, DV6-6C53, DV6-6C53EI, DV6C50, DV6Z-1100, DV6Z-1100SE, DX, G6, G6-1105, G6-1254, G6-1256, G6-1270, G6-1270SI, G6-1359, G6-1359EI, G6-1359SI

HP PROBOOK
4510S, 4515, 4515S, 4520S, 4530S, 4540S, 6540B, 6560B, G60-535DX

LENOVO IDEAPAD
B570, B590, G500, G510, G550G, G550G-T3500, G560, G570, G575, V570, Y550, Y570, Z570, Z570G, Z570Z, Z750

LENOVO THINKPAD
T520, W520

LENOVO THINKPAD EDGE
520, E520, E520S, I3-380

PACKARD BELL
P5W50, TM87

PROLINE
W150HU, W258HU

SAMSUNG
NP2070, NP270, NP300, NP300E5C, NP300ESA, RV510

SONY VAIO
EB37

TOSHIBA SATELLITE
0660, C50-A, C50-A-146, C50-A0343, C600, C660, C660-1N9, C660-1TT, C660-1VK, C660-238, C660-241, C660-289, C660-2D8, C660-S268, C660-S2PH, L655, L755, L755-14E, L755-167, L755-1EM, P755, P755-S12N, R850, R850-115, R850-12R, R850-15R, R850-168, R850-19R

MECER
W251HUQ

HP ENVY
15-1050NR, 15-1055SE

ADVENT
MONZA N1 and many more
Terms and conditions of use;
By placing an order with us you agree to our sales terms, conditions and policies.

Application of Terms; Customer Acknowledgment
These Terms constitute a binding contract between the Customer and Asetos. The Customer acknowledges agreement and acceptance of these Terms by making a purchase, placing an order or otherwise shopping on our Website. These Terms are subject to change without prior notice.

Purchase price
Prices are listed on our Web site, and are subject to change without notice. All prices INCLUDE VAT unless otherwise stated.

Shipping; Risk of Loss
During working hours, orders are usually processed within 2-3 hours. However, please allow up to 24 hours for your order to be processed. Asetos typically ships out orders within one business day after they have been placed (this excludes weekends & public holidays). We try our best to ship out all orders the same day if they are paid for before 12pm. You will receive a shipping confirmation email (with a tracking number) as soon as your order has been processed and shipped.

We ship countrywide, to your door. We use a COURIER SERVICE. This is overnight (next BUSINESS day service) to major centers (2-3 days extra to REGIONAL centers), but can take a few days to outlying areas. Please note - large items (over 2kg) might take an extra 1-2 days shipping time.

All times stated above exclude weekends & public holidays.

Asetos charges shipping and handling fees for every shipment, unless a special promotion or contract term provides otherwise; such cost includes the freight charged by the carrier, packaging, and handling. Delivery times are estimates only and we shall not be liable for any delays caused by the courier company or post office.

PLEASE NOTE - We can not ship to certain townships, farms, plots or extreme outlying areas.

Payment is due before shipment, unless credit terms have been arranged in advance. No item will be shipped out until Proof of Payment has been emailed to info@asetos.co.za or faxed to 0866 122 789. We allow a maximum of 5 days to complete order payment. Failure to do so will result in the order being cancelled.

Pricing Information; Availability; Errors and omissions Disclaimer
All pricing is subject to change. We reserve the right to make adjustments to pricing, products and service offerings for reasons including, but not limited to, changing market conditions, product discontinuation, product unavailability, manufacturer price changes and errors in advertisements.

All orders are subject to product availability. Therefore, we cannot guarantee that we will be able to fulfil customer's orders.

We make every effort to ensure the accuracy of the information published on our Website. However, the documents and graphics published on this site may contain technical inaccuracies or typographical errors. We make no representations about the suitability of the information and graphics presented on this site. All such documents and graphics are provided "as is" without warranty of any kind.

If an error is made and a product is listed at an incorrect price, we shall maintain the right to refuse or cancel any orders placed at the incorrect price. If the order has been confirmed and you have paid, we shall immediately issue a credit. We also do not guarantee that our prices listed on other websites are accurate or up-to-date.

Limitation of Liability
NEITHER ASETOS NOR ITS AFFILIATES WILL BE LIABLE FOR LOST PROFITS, LOSS OF BUSINESS OR OTHER CONSEQUENTIAL, SPECIAL, INDIRECT OR PUNITIVE DAMAGES, EVEN IF ADVISED OF THE POSSIBILITY OF SUCH DAMAGES, OR FOR ANY CLAIM BY ANY THIRD PARTY. NEITHER ASETOS NOR ITS AFFILIATES WILL BE LIABLE FOR PRODUCTS NOT BEING AVAILABLE FOR USE OR FOR LOST OR CORRUPTED DATA OR SOFTWARE OR THE PROVISION OF SERVICES BY THIRD PARTIES. THE CUSTOMER AGREES THAT FOR ANY LIABILITY RELATED TO THE PURCHASE OF PRODUCTS OR SERVICES PROVIDED DIRECTLY BY ASETOS OR ITS AFFILIATES, NEITHER ASETOS NOR ITS AFFILIATES WILL BE LIABLE OR RESPONSIBLE FOR ANY AMOUNT OF DAMAGES ABOVE THE RAND AMOUNT PAID BY CUSTOMER FOR THE PRODUCT(S) OR SERVICE(S) GIVING RISE TO THE CLAIM.
We will not be responsible for any delays in delivery which result from any circumstances beyond our control, including without limitation, product unavailability, carrier delays, delays due to fire, severe weather conditions, failure of power, labour problems, acts of war, terrorism, general insurrection, acts of God or acts of any government or agency.

We will not be held responsible for any typographical errors including instructions, descriptions, prices or terms.

We will not be held responsible for missing, damaged, or late package delivery by the shipper.

Orders; Payment Terms

Payment is due before shipment, unless credit terms have been arranged in advance. No item will be shipped out until Proof of Payment has been emailed to nfo@asetos.co.za or faxed to 0866 122 789. We allow a maximum of 5 days to complete order payment. Failure to do so will result in the order being cancelled.


Return of merchandise (RMA) and Warranty
All new items are covered by a 6 month warranty which will be honoured directly by Asetos. All products will either be replaced/repaired/refunded depending on stock availability. There is no warranty on used items unless stated otherwise.

Please email us should you need to return an item.

We do not reimburse your fee to ship to us, but we will pay for return shipping if the item is subject to replacement.

Refunds are subject to inspection of item(s) and all returns are subject to a 20% restocking fee if item is no longer in BRAND NEW condition

Please re-package safely and include all original product packaging.

Asetos reserves the right to refuse a refund if the item is damaged from misuse, items are missing, or if the product is altered in any way.

Asetos or its affiliates are not responsible for damage or loss of any kind that may occur as a result of using or misusing any product purchased from us.

Privacy and Security
Asetos respects your personal privacy!

Any information about you, your email address, your purchases, etc. is kept confidential and NOT given or sold to ANY third party for ANY reason (unless required by a government office or by a court order).
More Products by Asetos Computers
Whatsapp